Projection Pictures Video Portfolio covers corporates to shorts. I can work as a Videographer, Director, Producer, or Editor. In a single role or multitask.
Invest in Africa Summit
Corporate
'Invest in Africa Summit' is a recent addition to my video portfolio. The African Leadership Magazine organised the summit event in the Dorchester Hotel, London's Mayfair. I filmed the speakers and panel discussions for 6 hours. Here are the summit highlights.
A Keynote address by Lord Dolar Popat during the Invest in Africa Summit. (Catch a glimpse of me filming a speaker on stage).
At the end of the summit Journalist, Steven Williams of The African Leadership Magazine interviewed The Honourable Minister of Commerce, Industry and Trade of Eswatini (Swaziland), Manqoba Bheki Khumalo.
Alive & Cooking
Corporate & Pilot
Retired restaurateur Harold Rubin demonstrates cookery recipes elderly people could do by themselves in "Alive and Cooking! with Harold Rubin: easy cookery for singles and older people". The entire pilot episode is available on Philip Carr's YouTube channel. Mainly scripted, but with some improv. For consideration by TV commissioners.

Produced, Directed, and Edited by Philip Carr, courtesy of Bessborough Productions. Philip Carr used Starnow to recruit me to film the B-roll inserts of all the food recipe preparation. See the edit of that footage here.
92 and Shooting
Industry Feedback
Just after the 'Alive and Cooking!' video appeared on YouTube. The online website Shooting People editor wrote a piece about 'Alive and Cooking!' in 'SP Newsletter Issue no.136'. How the newsletter Editor knew the video was on YouTube is unclear. As a follow-up, Harold emailed the SP newsletter editor, but got no reply. Philip Carr replied to Harold Rubin's Ad: 'Paid Work for filmmaker' in the (Wanted) section of SP's daily "Filmmaker's Bulletin "email. PostScript Harold Rubin died in November 2020, at 93.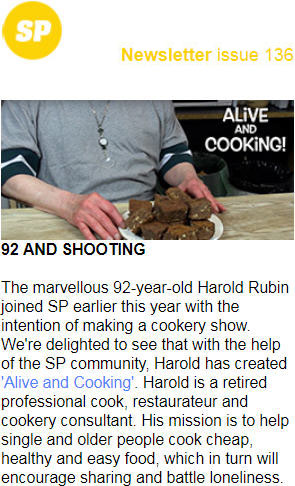 Rough Night
Short Film
An advertiser on mandy.com wanted video editors to shorten a 7′,00″ rough-cut. I applied to be the editor but got no reply, so I did my edit, regardless. My ungraded fine-cut without a sound mix or credits is only 4′,20″. Someone had a good night out…
Self-Promotion
Kadisha invited me to film her short performance at the Bow Festival in east London. To view Kadisha Kadisha Instagram profile, touch the title. I filmed her on a bright day, with a 1/4 ND filter, a 6.3 f-stop and a daylight white balance. I sat among the audience to film her. This snippet is 90″.
Kadisha left me a glowing recommendation for my portfolio on Starnow.

Runaround



Short Film
Vic, a cocky car salesman, joins Bianca, a customer, to test drive a very prestigious car. As Bianca drives the car, she loves how it feels, but can Vic stay the distance and get a sale? As the Director, Editor, and sole Producer of this short, it was a logistic challenge to do, but we did it with the support of a great team. A great short for my portfolio. 
Progressions
Self-Promotion
Shot in a gym; under sparse ceiling lights. The instructor wore a wireless Sennheiser AVX lapel microphone and a super-cardioid placed in the shock-mount of the FS5 for Atomos. See the full tutorial plays for 5′,20″. The snippet below is 90″. I got this work from the shootingpeople jobs forum.
Filmmakers do a common practice to avoid copyright problems for a site like YouTube. To support the techniques referred to in 'Progressions'. Hold a smartphone on its side askew but not flat. Then record the screen playback of the fight bout.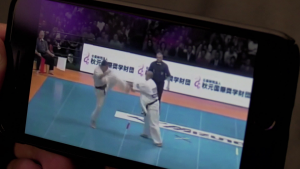 Timeline edit for 'Progressions'.

Street Performers
Misc
Street Performers entertain the public in the Covent Garden Market. Filmed at 100fps on the Sony FS5.
90″ pitch
Promotion
A promotion for investors to finance a feature film; filmed with an iPad.
App Tutorial Video
Corporate
The FAA union branch commissioned this tutorial video to show how a smartphone app for FAA members can help calculate their pay for a job; concerning the PACT & BECTU collective pay agreement—published on the BECTUtradeunion YouTube channel.
Edit an Actor's Reel
Self-Promotion
Do a revised edit to an actor's showreel, with clips from the shorts, "Julian's Room", "The Mort", "The Chase" and the feature film "Tortoise in Love".
Limitations
Short Film
A modern dance piece. As a sole producer, I handled all production phases, from planning the shoot to post on this challenging and artistically sensitive exposition of the modern dance movement.
HOAX
Short Film
A disturbing short film about an individual's descent into paranoia: screened at the Portobello Film Festival. Not suitable for under 12s.
Vintage Super 8mm Film
Misc
Projected Super 8mm film telecine onto 1080p HD.